Did you know that gum health can affect the health of your body as a whole? Without proper care, your gums are susceptible to infection, inflammation, and disease that can harm your systemic health.
The caring team at Monroeville Dental is here to help you maintain both healthy teeth and gums. We can assess the health of your gums and determine appropriate treatment steps for gingivitis and more advanced forms of periodontal disease.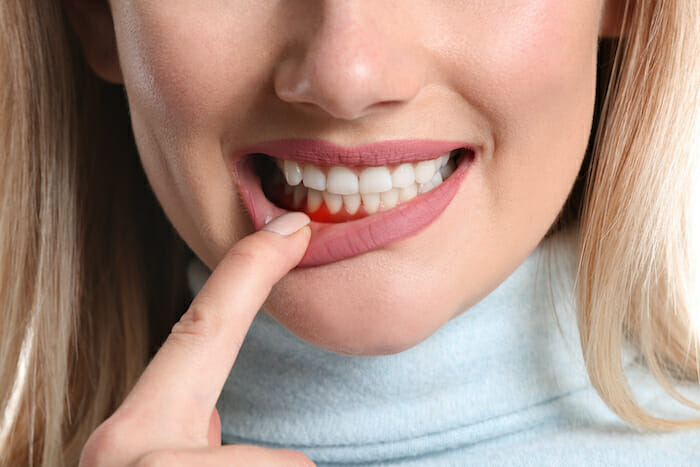 What Is Periodontal Disease?
Periodontal disease, also called gum disease, is a bacterial infection of the gums. It occurs when plaque and tartar accumulate along the gum line. This buildup pushes the gums away from the surface of the teeth, creating pockets where harmful bacteria thrive.
If left untreated, periodontal disease can lead to serious oral health consequences such as pain and tooth loss. Additionally, it's been associated with a variety of serious systemic diseases including diabetes and heart disease. It's also been associated with health concerns like dementia, arthritis, and reproductive problems.
Signs and Symptoms of Periodontal Disease
Persistent bad breath
Red, swollen gums
Receding gums
Gums that bleed easily when brushing or flossing
Tooth sensitivity
Pus between the teeth
Loose teeth
Tooth loss
Jawbone degeneration
What Causes Periodontal Disease?
The most common cause of periodontal disease is poor oral hygiene which occurs as a result of not brushing and flossing often enough, using improper brushing and flossing techniques, and/or failing to visit the dentist for regular dental hygiene appointments.
Additionally, other factors can put you at an increased risk of developing gingivitis and periodontal disease. These include:
Tobacco use of any kind
Hormonal changes such as those that occur during pregnancy
Having a family history of periodontal disease
Certain systemic diseases including diabetes and heart disease
Certain medications
If you fall into any of these high-risk categories, then we recommend asking our team about the steps you can take to protect yourself from the dangers of periodontal disease.
What Is Periodontal Therapy?
Periodontal therapy refers to several treatments designed to help patients combat periodontal disease, restore gum health, and maintain good ongoing oral health. Periodontal therapy can include both surgical and non-surgical treatments.
The type of periodontal therapy Dr. Trask recommends for you depends on your case's severity. At Monroeville Dental, we always recommend starting with the least invasive treatment available.
More Frequent Dental Cleanings
While we recommend that most patients visit the dentist every six months, patients who have been diagnosed with periodontal disease likely require more frequent dental appointments for monitoring treatment progress and the ongoing management of the infection. Dr. Trask works with each patient individually to determine the most appropriate cleaning schedule.
Scaling and Root Planing
Scaling and root planing are the most commonly recommended treatments for patients with periodontal disease. These treatments are similar to a normal teeth cleaning during which a hygienist scales and polishes the surface of your teeth to remove plaque and tartar.
However, scaling and root planing offer a deeper, more thorough cleaning than a regular dental hygiene appointment. During root planing, our dentist removes diseased tissues and tartar buildup from the roots of the teeth, as well as their exposed surfaces. This smooths the surface of the roots, making it more difficult for bacteria to cling to and grow around them.
Scaling and root planing are usually performed with local anesthetics to ensure patients experience no pain or discomfort during the treatments.
Non-Invasive Tray Treatments
Dr. Trask might prescribe treatment trays for you to use at home in between your professional dental cleanings. These trays deliver antibacterial medications directly to the gums, helping to combat bacterial growth and infection at home.
Surgery
The most advanced cases of periodontal disease might require surgery to remove internally infected areas. There are several different types of periodontal (gum) surgery that address severe cases of periodontal disease.
A periodontal surgery, such as flap surgery or gingivectomy, might be recommended if it is necessary for removing dead and diseased tissues and clearing out the infection below the gum line.
Periodontal Therapy at Monroeville Dental
Dr. Trask and the dental hygiene team at Monroeville Dental are highly committed to helping patients prevent gum disease.
However, gum disease can develop despite receiving regular oral health care. In these cases, we devise an appropriate schedule of treatment for periodontal therapy to help you manage and control the bacterial growth occurring around your teeth and gums.
To learn more about periodontal therapy with Dr. Trask in Monroeville, Ohio, we welcome you to contact our office or schedule an appointment.